Travelwheels Campervan verhuur Australië voor 2-3 personen
Travelwheels Campervan verhuur Australië heeft een nieuwe toyota hitop campervan voor 2 tot 3 personen in de aanbieding. Deze is heel gemakkelijk te besturen, is comfortabel, heeft een nieuwe keuken met magnetron en koelkast. 
Travelwheels Campervan Hire Australia – Main features

The great thing about going for travelwheels campervan hire van is that everything you need for your trip is already included in the price. You don't pay extra for chairs, a table and the living and cooking equipment.

The only thing we ask you to bring along is your own towels for hygiene reasons. There are lots of things to consider when comparing campervans for your trip. Below travelwheels campervan hire have broken it down in easy to read sections about the main features of the Travelwheels campervan hire 2-3 Person [New Shape] Campervan.

Travelwheels Hitop [New Shape] Camper Spacious kitchen layout

Travelwheels campervan hire have upgraded kitchen and lounge area in the 2-3 Person [New Shape] Campervan.

It has clean lines and well designed kitchen space easy to prepare food and cook. It has a 2 burner gas stove which is easy to use and more importantly easy to clean! Connects to a gas bottle so it cheap to refill instead of using those expensive small gas cartridges!

Travelwheels Campervans Hitops have 55L fridge

Travelwheels campervan hire hitop campervans all have 55L fridge included in the kitchen.

 It's simple to use and the two way battery system allows the fridge to recharge whilst you are driving during the day. If you stop at a campsite then you can simply plug in the power lead and the fridge, microwave and power sockets will work.

All Hitops Campervans have Microwaves

All travelwheels campervan hire australia Hitop campers have microwaves fitted as standard.

Please note that microwaves only works when the campervan is connected to 240V mains power at a campsite.

Travelwheels campervan rentals includes cooking & eating utensils

All vehichels have the following equipment included in the price, Knives, Forks, Spoons, Dinner, Side & Cereal plates/bowls, Can Opener, Ladle, Cups, Glasses, Saucepans, Frying Pan, and Kettle included. You do not have to pay extra for these features with Travel wheels.

Plenty of room to chill out in the daytime

The great thing about this travelwheels campervan hire 2-3 Person [New Shape] Camper is that is has a nice comfy benches during the daytime.

The benches are comfortable and a moveable table which you can remove easily to make even more space in the back. You can even turn it sideways and split the van in two if you start to argue on your trip!!!!

 

Sleeping area 2-3 Person Hightop [New Shape]

It's very easy to make the bed at night and it takes about a minute to make. Very easy to turn in back to the day time configuration of two benches and a table. Below are the main features this camper has to offer to make you have a good night's sleep:

Two beds inside camper (one double and one single bed)

Rear dinette converts to a big double bed (1.85m x 1.55m) and a single bed in HiTop roof 1.60m x 1.4m (max weight for roof bed is 200kg).

It's very easy to convert from the daytime with the table and two benches to a comfy double bed. All our vehicles have curtains on all the windows for privacy in the rear of the vehicle. The sliding windows on our vans have flyscreens to let in air (and keep the flies out!) as Australia is a very hot country

All campers for rent have 2 battery system for fridge/lighting

All campers come with a 12v/240v lighting and two 240v power sockets. You can now charge iPhones, iPads, laptops, and cameras when you connect the external power cord.

To use the 240v power sockets simply plug in the external power cable when you arrive at your campsite for the night. This way you will have power to charge up all those essential items we all bring on holidays nowerdays!

Email travelwheels in Deutsch or Français

The great thing about us is that our staff have travelled extensively around Australia. We can speak plenty of European languages as most of our customer come from Europe. Our staff can speak a range of languages from Deutesch, Francais, Italiano, and even Chinese!

Travelwheels campervan hire australia friendly staff will answer any questions you may have about camper-hire in Australia in English, Deutsch or Français. Why not try and email us in French or German below:

 

Travelwheels Campervan Hire Australia Price Promise Guarantee

Travelwheels campervan hire Australia price promise guarantee! The price you see is the price you pay! No hidden charges or extras to pay when you go for Australia Campervan Hire from Travelwheels.

If you have found a lower quote we will do our best to price match all our competitor quotes for Sydney to Sydney Campervan Hire. We will also do our best for the rest of the country as well!

Remember our campervan hire Australia quotes includes 3 camping chairs (most of our competitors charge you for these!), sleeping bags, pillows, cups, bowls and cutlery and everything you need for a great camper holiday in Australia.

If you do find a cheaper Australian campervan hire quote for a similar camper and insurance options then all you have to do is email us the competitors quote.

Once you have emailed travelwheels our competitors quote we will search online do our best to beat that quote for you (if we can!) We will also recommend some of our competitors as well if we don't have a camper in stock for you!

Campervan Hire Australia – Child booster seat information

Child booster seat information for camper rentals in Australia. The travelwheels 2-3 person campervan [New Shape] can accommodate one child over the age of four years. If a booster seat is required, then ONE BOOSTER SEAT (minimum four years of age) can be strapped in the front passenger seat with the diagonal lap-sash seatbelt.

 

Campervan Hire Australia Family Friendly Campers

Travelwheels campervans Australia rent Family Friendly Australian Campervan Rentals – Please note that for safety reasons a child seat cannot be fitted in this 3 person hitop campervan from travelwheels. Australian law states that Children under four years must not travel in this vehicle.

Therefore if you have small children under four years old, then we recommend you clicking here to view our Fun Family 5 Campervan which has been designed to safely carry two small children. This family campervan has been fitted with dedicated child seat belt anchor points which meet the new Australian standard for carrying small children in camperin Australia.

 

Family campervan hire email travelwheels Australia

For more detailed information about child seat configuration and the best camper for families with small children, just send travelwheels campervan hire Australia an email and we will answer all your questions regarding hiring a safe vehicle for carrying small children in Australia

NONE OF OUR CAMPERS CAN FIT A BABY CAPSULE Due to new laws passed in Australia, none of the travelwheels vehicles can legally support a baby capsule. If you do have a very young baby you might struggle to find any campervan supplier in Australia that can carry a 0-6 month old baby.
Travelwheels Campervan verhuur Australië – Belangrijkste kenmerken
Het goede nieuws is dat als je boekt bij travelwheels campervan verhuur dat alles wat je nodig hebt voor je reis als is inbegrepen in de prijs. Je betaald geen extras voor stoelen tafel en al het andere materiaal.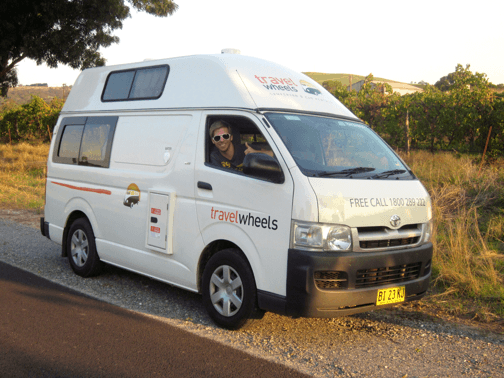 Het enige wat we vragen om zelf te voorzien zijn voor hygienische redenen. Er zijn heel veel zaken waar je moet over nadenken als je een campervan boekt voor jouw droom reis.  Hieronder vind je alle informatie over de belangrijkste kenmerken van een xampervan voor 2-3 personen. 
Travelwheels Hitop [Nieuwe design] Camper met open keuken
Travelwheels campervan verhuur heeft zijn keuken en de lounge in een nieuw jasje gestopt!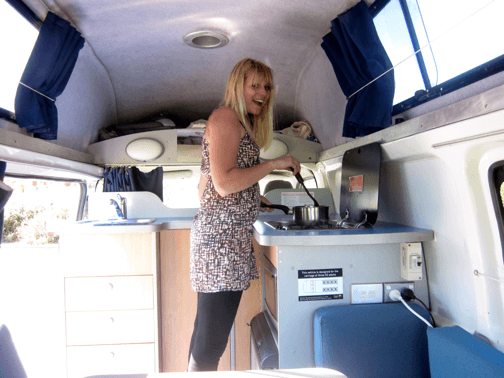 Het is zo opgedeeld dat je genoeg ruimte hebt om het eten voor te bereiden en te koken. Het heeft 2 gasbekkens zodat je snel en netjes kan koken. Het is verbonden aan een gasfles dit is veel goedkoper vergeleken met andere gasfornuizen. 
Travelwheels Campervans Hitops hebben een 55L koelkast
Travelwheels campervan verhuur hitop campervans hebben allemaal een 55L koelkast ingebouwd in de keuken van de campervan.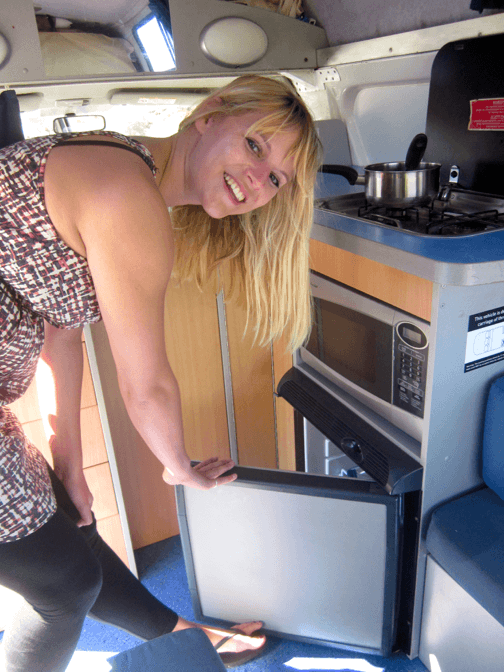 Het is zo simpel het dubbele batterij systeem zorgt er voor dat de koelkast altijd koud blijft ook als je aan het rijden bent. Als je op een camping overnacht koppel je gewoon de verlengkabel aan de campervan aan en zo kunnen de koelkast, lichten en stopcontacten blijven werken.
Alle Hitops Campervans hebben magnetrons
Alle travelwheels campervan verhuur Australië Hitop campers hebben een ingebouwde magnetron in de keuken.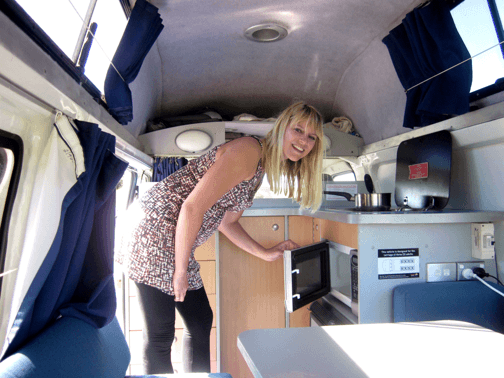 Realiseer je dat de magnetron enkel gaat werken als je op een camping bent verbonden met een 240V stopcontact.
Travelwheels campervan verhuur heeft al het keukengerij inbegrepen
Alle voertuigen hebben het volgende materiaal inbegrepen in de prijs;  bestek, borden, diepe borden, kommetjes, blikopener, soeplepel, kopjes, glazen, pannen, potten en waterkoker. Je moet bij Travelwheels niets bijbetalen voor al dit materiaal!
Voldoende ruimte om te relaxeren tijdens de dag
Eén van de pluspunten als je huurt bij Travelwheels is dat de lounge kamer heel comfortabele zitbanken heeft.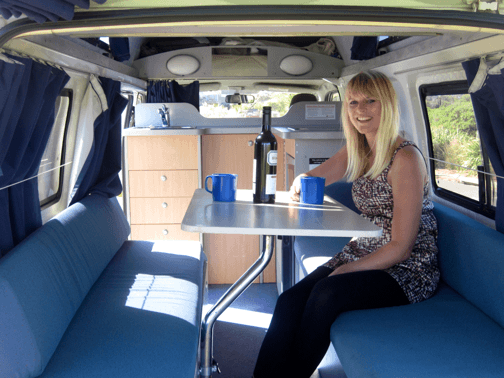 De banken zijn comfortabel en de tafel is verschuifbaar zodat je meer plaats hebt om te bewegen. Je kan het zelfs in het midden plaatsen om 2 kanten te maken mocht er plots ruzie ontstaan op jullie reis ;-).
Slaapruimte voor 2-3 personen in de Hightop [Nieuwe design]
Het is zo gemakkelijk om de zitbanken om te vormen tot een bed, in een minuutje is de klus zo geklaard! De volgende morgen is het dan ook weer heel snel en simpel om het terug om te vormen tot banken en tafel. Hieronder vind je de belangrijkste kenmerken om een goede nacht te gemoed te gaan:
Twee bedden in de campervan (één dubbel bed en een éénpersoons bed)
De lounge kamer met tafel kan je omvormen tot een dubbel bed(1.85m x 1.55m) en het éénpersoonsbed bevind zich in het dak van de campervanan( 1.60m x 1.4m) (max gewicht is 200kg).
Het is zo gemakkelijk om de campervan te veranderen van de dag opstelling naar de nachtopstelling. Al onze voortuigen hebben gordijnen om je privacy te respecteren. De schuiframen hebben ook vliegenramen om toch frisse lucht binnen te laten in de campervan!
Alle campers die we verhuren hebben een systeem met 2 batterijen voor de koelkast en de verlichting
Alle campers hebben 12v/240v verlichting en twee 240v stopcontacten. Je kan nu ook je iPhones, iPads, laptops, and cameras opladen wanneer je ze verbind met een externe verlengkabel.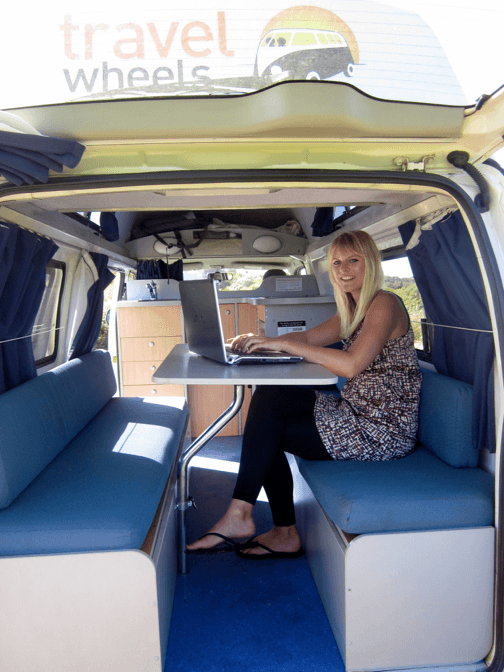 Om de 240v stopcontacten te gebruiken moet je simpelweg de externe verlengkabel aansluiten aan een extern stopcontact zodat de batterij 's nachts kan opladen. Zo kan je alle elektrische apparaten die je bij hebt opladen!
Email travelwheels in het Nederlands
Al ons personeel heeft zelf al veel rondgerezen in Australië. We spreken verschillende Europese talen! Frans, Engels, Duits, Spaans, Italiaans en zelfs Chinees!
Travelwheels campervan verhuur Australië heeft heel vriendelijk personeel en zal al je vragen in verband met campervans met veel plezier beantwoorden! 
Travelwheels Campervan verhuur Australië beloofde prijs
Travelwheels campervan verhuur Australië werkt met een gegarandeerde beloofde prijs! De prijs dat je ziet is de prijs dat je betaald! Geen verborgen kosten of extras wanneer je bij Travelwheels camper verhuur Australië een campervan huurt.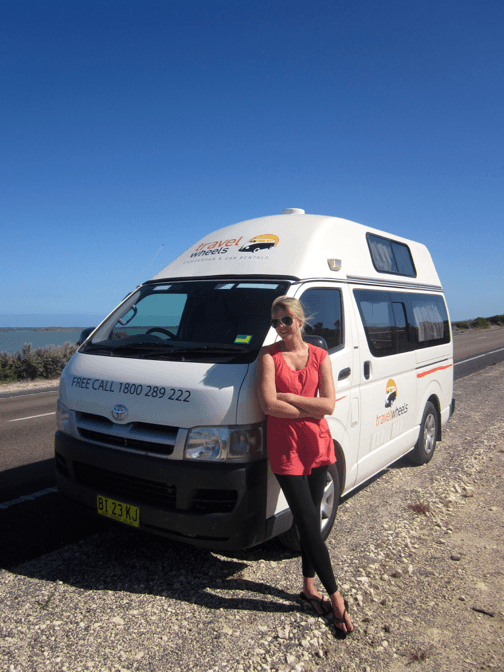 Als je een goedkopere campervan vindt bij de concurrentie doen wij onze uiterste best om een betere prijs aan te bieden voor een reis van Sydney tot Sydney. Voor alle andere bestemmingen natuurlijk ook!
Onthou dat bij Travelwheels campervan verhuur Australië de totale prijs steeds 3 kampeer stoelen(meeste verhuur bedrijven rekenen hiervoor extras aan), slaapzakken, kussens, kopjes, kommetjes en bestek omvat voor een geweldige campervan trip door Australië!
Als je een goedkopere Australische campervan verhuur aanvraag  voor een gelijkaardige campervan met verzekering dan is het enige wat je moet doen ons een email sturen met de totaal prijs van de concurrentie.
Wij doen onze uiterste best om de prijs van onze concurrentie te verslaan maar we kunnen niets beloven. Als we zelf geen campervans ter beschikking hebben zullen we ook andere campervan verhuur bedreiven aan raden waar je zeker een campervan kan vinden!
Campervan Verhuur Australië – informatie over kinderzitjes
In de travelwheels campervans [Nieuwe model] voor 2-3 personen kunnenn gemakkelijk ook kinderen meegenomen worden als ze ouder zijn dan 4 jaar. Als een kinderstoeltje nodig is, is er de mogelijkheid om één kinderzitje op de autostoelen vooraan met de gordel vast te maken.
Campervan Verhuur Australië en zijn kindvriendelijke campers
Travelwheels campervans Australië verhuurt familie vriendelijke campervans voor kinderen ouder dan 4 jaar. Zoals hierboven vermeld kan een kinderzitje in de voorzijde van de auto geplaats worden. Babyzitjes zijn jammer genoeg verboden.  AIn de Australische wet staat zwart op wit dat kinderen onder 4 jaar NIET in deze wagen mogen vervoert worden. 

We stellen daarom voor dat als je kinderen onder de 4 jaar hebt je doorklikt naar de volgende link  klik hier om ons famlie campervan voor 5 personen te zien.Deze campervan is gedesigned om op een veilige en legale manier 2 kinderen aan boord te vervoeren. Deze campervan heeft de geregulariseerde normen om kleine kinderen aan boord te hebben.
Familie campervan verhuur email travelwheels Australië
Voor meer informatie over kinderzitjes en de beste campervan voor families met kleine kinderen, stuur ons gewoon een email hier travelwheels campervan verhuur Australië  en wij beantwoorden al jouw vragen zo snel mogelijk.
GEEN ENKELE VAN ONZE CAMPERVANS HEEFT RUIMTE VOOR EEN BABY ZITJE door nieuwe wetgevingen in Australië kan geen enkele travelwheels voertuig legaal babys vervoeren in een babyzitje. Als je een baby hebt van 0-6 maanden zal het heel moeilijk zijn om een campervan in Australië te vinden.